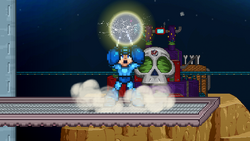 An up smash is an attack in Super Smash Flash 2. It is used by pressing the designated up key strongly while pressing the attack button at the same time. These attacks generally have an upward trajectory and can lead to juggling.
List of up smash attacks
Character
Up Smash
Damage (Uncharged)
Damage (Fully charged)
Black Mage
Firaga; Black Mage makes a fire uppercut in the air. When fully charged, the move will change and two columns of fire will come towards Black Mage and shoot up in the air once they meet, dragging along anyone they touch.
15%
5%
20%
21%
Bomberman
Jumps up in the air while doing an uppercut with an explosion at the top of his hand.
3%
13%
16%
5%
18%
23%
Bowser
Gets on all fours and attacks in the air with his shell.
Unknown.
Unknown.
Captain Falcon
Performs two rotating kicks in the air above himself.
8%
13%
21%
12%
18%
30%
Chibi-Robo
Throws his electrical cord in the air which is surging with power.
4%
10%
14%
6%
14%
20%
Donkey Kong
Claps his hands together in the air vertically directly above himself.
18%
26%
Fox
Performs an overhead flip kick.
17%
12%
6%
32%
17%
9%
Goku
Jumps up very quickly and raises his fist to do an uppercut in the air.
13%
19%
Kaiō-ken Goku
Same as Goku's, except more powerful and he also makes an earthquake when landing.
17%
N/A
Ichigo
Powerfully slashes his blade above his head in an arc.
15%
27%
Isaac
Unsheathes his sword and quickly slashes upwards while jumping.
Unknown.
Unknown.
Jigglypuff
Does a headbutt upward and in front of her.
15%
21%
Kirby
Does an overhead flip kick.
15%
11%
21%
16%
Link
Powerfully slashes three times in three arcs with the Master Sword above his head.
4%
3%
3%
10%
4%
3%
5%
12%
Lloyd
Stabs a sword in the air straight up vertically and very quickly while saying: "Take this!".
14%
20%
Luigi
Performs a hard-hitting headbutt.
Unknown.
Unknown.
Mario
Performs a headbutt upwards.
16%
26%
Marth
A powerful upward thrust. As most Marth's attack, it has a tipper effect.
10%
17%
14%
21%
Mega Man
Spark Shock; Mega Man shocks two sparks in his up. Good knockback. Does electric damage.
Unknown.
Unknown.
Meta Knight
Swings his sword three times in the air in three arcs, like Link's, but quicker, with less range and less powerful.
3%
2%
4%
9%
5%
2%
6%
13%
Mr. Game & Watch
Head becomes a diving helmet and he bashes upwards with his head. Based on Octopus.
Unknown.
Unknown.
Naruto
Performs an roundhouse split kick in the air above himself on a slight angle.
14%
20%
Ness
Performs an "Around-The-World" with his Yo-Yo.
12%
1%
13%Total
17%
8%
25%
Peach
Raises one of her hands in the air vertically and spins around twice. Has a sweet spot in her hand.
15%
8%
21%
12%
Pikachu
Performs an overhead tail swipe.
15%
21%
Samus
Unleashes five explosions in an arc above herself, from in front of herself to behind herself.
28%
40%
Sheik
Forcefully swings her arms down to her sides while bending over.
17%
13%
30%
23%
19%
42%
Sonic
Jumps up into the air, then curls into a ball and spins in place for a few seconds.
12%
17%
Sora
Thrusts his Keyblade straight into the air with wind surrounding the tip of it. Has a strong windbox.
16%
23%
Tails
A boxing glove on a chain shoots up in the air right in front of Tails right after he points upward in front of himself.
17%
24%
Wario
Does a little jump, then spins around like a top a few times while his head enlarges slightly.
15%
21%
Yoshi
Attacks by swinging his head from behind his body to in front of his body in an arc.
16%
23%
Zelda
Waves her hand in two arcs while embedded with magic.
15%
21%
Zero Suit Samus
Spins in place, extending the Plasma Whip above her head in a swirl.
13%
19%
List of Final Forms' up smash attacks
| Final Form | Up Smash | Damage (Uncharged) | Damage (Fully charged) |
| --- | --- | --- | --- |
| Bankai Ichigo | Sticks his sword above and in front of himself diagonally upward. | 15% | 21% |
| Kyūbi Naruto | Does a headbutt upwards in an arc. | 15% | 21% |
| Super Sonic | Same as Sonic's, except it is more powerful and it has less range and it is harder to hit the opponent with all of the hits. | 19% | 26% |
| Super Saiyan Goku | Does a flaming uppercut while jumping in the air. | 18% | 26% |
| Wario-Man | Turns into his 8-bit form and jumps on a 8-bit Goomba. Coins will be viewable if he hits anyone during the smash. | 28% | 40% |
Ad blocker interference detected!
Wikia is a free-to-use site that makes money from advertising. We have a modified experience for viewers using ad blockers

Wikia is not accessible if you've made further modifications. Remove the custom ad blocker rule(s) and the page will load as expected.