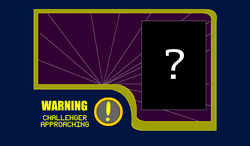 An unlockable character is a character that is not available at the start of the game (unlike a starter character), but must be unlocked. Unique criteria must be met in order to unlock a certain character. In both Super Smash Flash and Super Smash Flash 2, typically, the player must accomplish a particular in-game feat and once complete, a message will display: "Warning! Challenger Approaching!" with a white question mark block over the black silhouette of the mystery character that he's about to face. By winning the challenge and defeating the opponent, the character becomes playable. In it will be the same although the tasks the player must complete to unlock the characters are still unknown.
In Super Smash Flash
In Super Smash Flash 2
Any information is unknown.
Trivia
See Also