The Cell is an interactive Macromedia Flash Professional 8 game developed by Cleod9 Productions and published by McLeodGaming. The game was originally made by Greg McLeod's (Cleod9) Biology class where you can see all of the major organelles of a living cell.
Function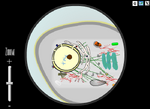 The game primary function is to known the major organelles of either Eukaryotic cells, those who are on animals, and/or Prokaryotic cells those who are of plants. One should click on any of the organelles then small window will pop out and will show a short description of said organalle. One can either zoom in or zoom out the cell so it could be more easy to localizate an organelle since its impossible to scroll the cell.
External links
Ad blocker interference detected!
Wikia is a free-to-use site that makes money from advertising. We have a modified experience for viewers using ad blockers

Wikia is not accessible if you've made further modifications. Remove the custom ad blocker rule(s) and the page will load as expected.