This article/section is in need of a

cleanup

.


This means the article has an informal appearance and does not meet the current standards of the McLeodGaming Wiki.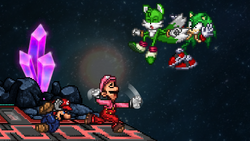 Team battle is a mode in Super Smash Flash and Super Smash Flash 2. Players choose a certain color (blue, green or red) in which the teams are organized.
In Super Smash Flash
In Super Smash Flash, the player has the option to do a 2 on 2 match, 1 on 3 match, 2 vs 1 vs 1 match, and 1 vs 1 vs 2 match. Unlike the official Super Smash Bros. games, the characters can't change colors, so it is pretty difficult to tell which character is and who isn't on the team.
In Super Smash Flash 2
In Super Smash Flash 2, the player can choose who is and who isn't on the team. Starting from demo version 0.4, the characters change color according to the team they are on. They also have Team Damage, which allows attacking other characters on player's team. Even though Team Damage is on, you can't do a Battle with one team. It is possible to share stock by pressing the pause button when the player runs out of lives. The result is the player gets revived with one life, at the cost of a teammate's life. This doesn't work if the teammate(s) only has one life.
Gallery
Ad blocker interference detected!
Wikia is a free-to-use site that makes money from advertising. We have a modified experience for viewers using ad blockers

Wikia is not accessible if you've made further modifications. Remove the custom ad blocker rule(s) and the page will load as expected.