Super Smash Flash 2 Demo
Talk

0
876pages on
this wiki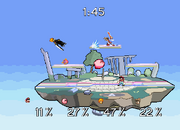 In order to test everything coded within the game before the final release,
Cleod9
releases to the public, after a certain period of time, the
Super Smash Flash 2 Demo
, a playable beta version of
Super Smash Flash 2
. New versions of the demo usually include several new features, new characters or stages, and many bug fixes. The current version of the demo is v0.9.2011.
Developer Demo
There is a test demo for exclusive use by SSF2 Devs and SSF2 Balancers called the Developer Demo, or devmo for short. Its main function is to test new content before its public release (and thus preventing bugs from being in the release). Because of its exclusivity, Devs usually enjoy mocking non-devs in the McLeodGaming Forums by showing them screenshots from the devmo, as well spoiling them.
List of demos released
Version
Release date
Character(s) added
Stage(s) added
Item(s) added
Pokémon added
Assist Trophies added
Feature(s) added
Download

0.1a

December 25, 2007

Mario Lloyd

Battlefield Test Stage 2

Smash Ball

First playable demo Damage ratio

Windows

0.1b

February 16, 2008

First bug fixes

Windows

0.2a

April 2, 2008

Four player support


Customizable Controls
Designated shield and jump keys
Stock Matches
Item frequency
Starter damage


Player number display

Windows

0.2b

June 27, 2008

Grabs and Throws


Tap smash attacks
Back Aerial attacks
Ledge rolling
Projectile Reversal
Charge-cancelling


Single-button Final Smashes

Windows

0.3a

August 15, 2008

Sonic

Final Destination

Entrances


Music
Dynamic camera
Revival platforms
Air dodging
Attack Priority
Controllable Pause menu camera
Floating Smash Ball
Inhaling opponents
Up and Down Tilt attacks
Layered stage graphics
Camera shake effect
Rolling wakeup


Turbo attacks

Windows
Mac

0.3b

October 18, 2008

Shieldgrabbing


Windows
Mac

0.3c

November 30, 2008

AutoSave feature


Sidestep dodging


Grab-escaping

Windows
Mac

0.4a

January 1, 2009

Link

Dream Land
Temple

Capsule

Team Battles


Audio control options
Basic item abilities


Tether Recovery

Windows
Mac

0.4b

March 12, 2009

Fan
Exploding Capsule

Designated grab key


Shield knockback
Random slot for characters and stages selection


Ability to let go of ledges

Windows
Mac

0.5a

June 10, 2009

Naruto

Waiting Room*

Menu


Physics engine overhaul
Announcer
HUD
Pause screen
Final Forms' immunity to grabs


Frame-based Timer

Windows
Mac

0.5b

July 22, 2009

Mega Man

Green Hill Zone
Mushroom Kingdom II

Beam Sword
Home-Run Bat

Kirby Hats


Chargable Smash attacks for items
ShortHopping
Pummels
Ledge attacks
Midair item grabbing
Side tilt attacks for some characters


Run-grabbing

Windows
Mac

0.6

June 13, 2010

Sora

Castle Wily


Comet Observatory (Galaxy Tours)
Hueco Mundo
Hidden Leaf Village
Sector Z
Tower of Salvation
Twilight Town


Food
Poké Ball

Chikorita
Hitmonlee

Codebase upgraded to Flash 10 AS3


Menu revamped
Gliding
AI completely redeveloped
Training Mode
Item Switch
Stale Move Decay
Stage ricochet
Removal of Crouch-grabbing
Overall faster gameplay


Forward tilts for all remaining characters

Windows
Mac

0.7

January 1, 2011

Black Mage***
Wario

Casino Night Zone


Central Highway
Chaos Shrine***
Freezeflame Galaxy (Galaxy Tours)
Good Egg Galaxy (Galaxy Tours)
Jungle Hijinx
Planet Namek
Rainbow Route
Saturn Valley
Shadow Moses Island
Temple of Time
WarioWare, Inc.


Yoshi's Island

Assist Trophy


Bob-omb
Cucco
E-Tank
Exploding Tag
Green Shell
Heart Container
Mr. Saturn
Ray Gun
Red Shell


Spike Shell

Charizard
MissingNo.

Amigo


Bandana Dee
Light Yagami
Metroid
Pac-Man
Proto Man
Renji


Starfy

Galaxies changes to Galaxy Tours


Hazards in some stages
Feature Switch
Damage counters revamped again
Snapshot feature
Multiple taunts
Background characters to some stages
Results Screen
Directional Influence (SDI)
Multiuple game saves
Character select animations
Franchise icons
Meteor Smashes


First unlockable features

Windows
Mac

0.8a

December 26, 2011

Captain Falcon***
Yoshi

Clock Town***


Crateria
Fourside
Gangplank Galleon
Mushroom Kingdom III**
Peach's Castle
Sand Ocean***
Sky Sanctuary Zone
Smashville


Yoshi's Island (SSB)

Bumper
Super Mushroom

Chatot
Snorlax

Krillin
Silver

Overall better performance


Intro sequence
Flash-generated special effects
Characters resized to proportions from official games
In-game quality settings
Full Screen mode
Physics engine revamped once more
Gravity during knockback
Reverse knockback angles
Teching
Jump startup
All remaining kinds of DI
Character-Specific Traction
Meteor Cancelling
Double Jump Cancelling
Emphatic stretching
Star and Screen KOs
Autocancelling
Automatic L-cancelling Tweaked Edge Sweetspot mechanic
Randomized voice clips
Target Smash!! mode


Sudden Death

Windows
Mac

0.8b

March 11, 2012

Pitfall

Improved item physics


Ground and wall bounces


Random Stage Switch

Windows
Mac

0.9

January 14, 2013

Meta Knight
Zelda/Sheik

Bomb Factory


Bowser's Castle
Castle Siege
Distant Planet
Dracula's Castle
Emerald Cave
Hueco Mundo overhaul Hylian Skies****
Lunar Core
Meteo Voyage
Mirror Chamber****
Nintendo 3DS****
Phase 8
Skull Fortress****
Sky Sanctuary Zone overhaul
Twilight Town overhaul


Yoshi's Story****

New menu with original music


Secondary shield and jump keys
Designated Dash key
C-Stick function
Improved collision detection
Initial Dash & Dash Dancing
Get-Up Attacks
Jab resets
Instant midair jumps
Reverse Neutral Specials
Powershield now reflects projectiles.
Ledge Occupancy
Widescreen support
Hardware accelerated fullscreen
Revamped camera
Competent A.I.
Misc. physics changes
Damage Counters revamped
Palette swaps
Shadows
Lighting effects
Player Names
Event Matches
Parallax scrolling (on Central Highway)
Mode 7 (on Hylian Skies)
Keyboard controlled menu


Patch system

Windows
Mac
Linux

0.9b

July 24, 2014

Zero Suit Samus


Silph Co.
Skyward Voyage


Unknown

Unknown

Unknown

Spiking
Slight touch-up for damage counters
Online Mode (Via MGN)
Replays
Special Versus

*: Test Stages 1 and 2 were replaced with the Waiting Room.
**: Mushroom Kingdom II was replaced with Mushroom Kingdom III.
***: Black Mage, Captain Falcon, Jigglypuff, Chaos Shrine, Clock Town, and Sand Ocean are unlockable content in their respective demos but starter content in the full game.
****: Waiting Room, Temple of Time, Yoshi's Island 64, Castle Wily, and Rainbow Route were replaced with Nintendo 3DS, Hylian Skies, Yoshi's Story, Skull Fortress, and Mirror Chamber, respectively.
External links
Trivia
Demo v0.9 has added the most content into the game so far.
Demo v0.8a is the only version to add more characters that appeared in the original Super Smash Bros. game.
Although Super Smash Flash 2 has been in development since 2007, the developers feel that the game didn't truly enter development until 2010 with the release of 0.6.
Demos v0.9a and v0.9b were first shown at Apex 2013 and 2014, respectively, making it the second consecutive year that this happens.
Almost everything that was added to v0.9b were fan-suggested changes to the game, which made the game's popularity go much further up than before.
Demo v0.9 is the only one so far to use the patch-system capabilities. Because of this multiple versions of v0.9a were made.