Ad blocker interference detected!
Wikia is a free-to-use site that makes money from advertising. We have a modified experience for viewers using ad blockers

Wikia is not accessible if you've made further modifications. Remove the custom ad blocker rule(s) and the page will load as expected.
This article is about the demo of the original SSF2. For demo of the original SSF, see Super Smash Flash Demo.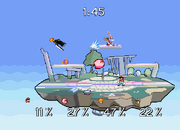 In order to test everything coded within the game before the final release, Gregory McLeod releases to the public, after a certain period of time, the Super Smash Flash 2 Demo, a playable beta version of Super Smash Flash 2. New versions of the demo usually include several new features, new characters or stages, and many bug fixes. The current version of the demo is 0.9b, and its current revision is 0.9.1.1982.
Developer demo
There is a test demo for exclusive use by SSF2 devs and SSF2 balancers called the developer demo, or devmo for short. Its main function is to test new content before its public release (and thus preventing bugs from being in the release). Because of its exclusivity, Devs usually enjoy mocking non-devs in the McLeodGaming Forums by showing them screenshots from the devmo, as well spoiling them.
List of demos released
Version
Release date
Character(s)
Stage(s)
Item(s)
Download
0.1a
December 25, 2007
Windows
0.1b
February 16, 2008
N/A
N/A
N/A
Windows
0.2a
April 2, 2008
N/A
N/A
N/A
Windows
0.2b
June 27, 2008
N/A
N/A
N/A
Windows
0.3a
August 15, 2008
N/A
Windows
Mac
0.3b
October 18, 2008
N/A
N/A
N/A
Windows
Mac
0.3c
November 20, 2008
N/A
N/A
N/A
Windows
Mac
0.4a
January 1, 2009
Windows
Mac
0.4b
March 12, 2009
N/A
N/A
Windows
Mac
0.5a
June 10, 2009
N/A
Windows
Mac
0.5b
July 22, 2009
Windows
Mac
0.6
June 13, 2010
Windows
Mac
0.7
January 1, 2011
Windows
Mac
0.8a
December 26, 2011
Windows
Mac
0.8b
March 11, 2012
N/A
N/A
Windows
Mac
0.9a
January 14, 2013
N/A
Windows
Mac
Linux
0.9b
July 24, 2014
N/A
Windows
Mac
Linux
Beta
2016
N/A
Notes
Trivia
Although Super Smash Flash 2 has been in development since 2007, the developers feel that the game didn't truly enter development until 2010 with the release of v0.6.
Demos v0.9a, v0.9b and Beta were first shown at Apex 2013, 2014 and 2015, respectively, making it the three consecutive years that SSF2 was showcased at Apex.
Almost everything that was added to 0.9b were fan-suggested changes to the game, which made the game's popularity increase at a faster rate than before.
Beta marks the longest gap between two major versions of the game thus far, with 26 months and counting since the release of 0.9b.

Because of this, 2015 was the first year that didn't see a major release update since the game's conception in 2007.
External link