Super Smash Flash 2 Demo
Talk

0
841pages on
this wiki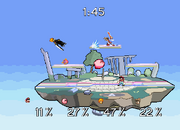 In order to test everything coded within the game before the final release,
Cleod9
releases to the public, after a certain period of time, the
Super Smash Flash 2 Demo
, a playable beta version of
Super Smash Flash 2
. New versions of the demo usually include several new features, new characters or stages, and many bug fixes. The current version of the demo is v0.9.2011.
Developer Demo
There is a test demo for exclusive use by SSF2 Devs and SSF2 Balancers called the Developer Demo, or devmo for short. Its main function is to test new content before its public release (and thus preventing bugs from being in the release). Because of its exclusivity, Devs usually enjoy mocking non-devs in the McLeodGaming Forums by showing them screenshots from the devmo, as well spoiling them.
List of demos released
*: Test Stages 1 and 2 were replaced with the Waiting Room.
**: Mushroom Kingdom II was replaced with Mushroom Kingdom III.
***: Black Mage, Captain Falcon, Jigglypuff, Chaos Shrine, Clock Town, and Sand Ocean are unlockable content in their respective demos but starter content in the full game.
****: Waiting Room, Temple of Time, Yoshi's Island 64, Castle Wily, and Rainbow Route were replaced with Nintendo 3DS, Hylian Skies, Yoshi's Story, Skull Fortress, and Mirror Chamber, respectively.
External links
Trivia
Demo v0.9 has added the most content into the game so far.
Demo v0.8a is the only version to add more characters that appeared in the original Super Smash Bros. game.
Although Super Smash Flash 2 has been in development since 2007, the developers feel that the game didn't truly enter development until 2010 with the release of 0.6.
Demos v0.9a and v0.9b were first shown at Apex 2013 and 2014, respectively, making it the second consecutive year that this happens.
Almost everything that was added to v0.9b were fan-suggested changes to the game, which made the game popularity go far away than before.
Demo v0.9 is the only one so far to use the patch-system capabilities. Because of this multiple versions of v0.9a were made.