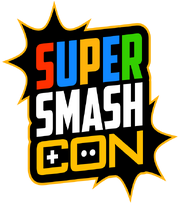 Super Smash Con is an annual entertainment fan convention held annually in Chantilly, Virginia, US, focusing on numerous games events, merchandising and gaming tournament. Despite the name, the convention is not a 100% Super Smash Bros.-centered, as exhibitors, vendors, competitions, games and franchises from other companies are present at the event. It, however, features a full sized Super Smash Bros. tournament.
McLeodGaming at Super Smash Con
McLeodGaming assisted to the first convention on 2015 showcasing the Apex 2015 build of Super Smash Flash 2 Beta where attendants are be able to play it. Gameplay livestreams were shown for people who could not assist to the convention. McLeodGaming also attended the second convention on 2016, this time showcasing a new version of SSF2 Beta, once more streaming the whole event online and revealing new characters during the days the event lasted. For McLeodGaming's assistance to the third convention on 2017, a SSF2 panel – the first of its kind – was hosted; it consisted of developers discussing various aspects of the game's development and a space for questions and answers. As usual, the game was livestreamed once again.
External links