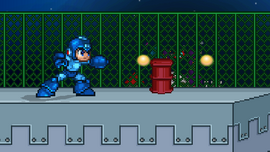 The standard special move is a special move in Super Smash Flash 2 that is activated by pressing the designated key as assigned by the player while standing still. The standard special is always a signature move (something that represents the character) and usually keeps the user relatively stationary, but there are exceptions like Jigglypuff's Rollout and Sonic's Homing Attack. In addition, Kirby can copy opponents' standard special move using his Inhale ability. The exception to this is another Kirby player, where he just releases them unless that Kirby has an ability, which he will steal. Super Smash Flash did not feature standard special moves, instead, the equivalent was the standard attack, whom included projectile attacks and other similar attacks to the standard special moves.
List of standard special moves
Final Forms' standard special moves
Ad blocker interference detected!
Wikia is a free-to-use site that makes money from advertising. We have a modified experience for viewers using ad blockers

Wikia is not accessible if you've made further modifications. Remove the custom ad blocker rule(s) and the page will load as expected.