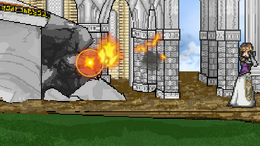 The side special move, commonly referred to as side-B, is a special move in Super Smash Flash 2 that a character may perform that involves pressing the designated key whilst moving forward or backward. The forward special move is usually either a projectile or an attack that launches the user forwards. Super Smash Flash featured a similar variant called side attack, which mostly were combo attacks and successive moves.
List of side special moves
Final Forms' side special moves
Ad blocker interference detected!
Wikia is a free-to-use site that makes money from advertising. We have a modified experience for viewers using ad blockers

Wikia is not accessible if you've made further modifications. Remove the custom ad blocker rule(s) and the page will load as expected.