This article/section contains information of a previously

confirmed

feature for a game or similar media.

---

The original source that confirmed the subject has otherwise become obsolete, outdated or deprecated and has yet to be re-confirmed by an official modern source.
This article/section may require some

images

.

---

Whether it is a new image or simply a higher quality update, upload the new file and add it into the article.
A Piranha Plant, known as Packun Flower (パックン フラワー) in Japan, is an enemy almost always portrayed as a leafy, green stalk topped with a white-spotted red or green globe and sharp teeth.
Appearance
Piranha Plants are large, carnivorous plants encountered throughout the Mario series; Piranha Plants are seemingly based-off Venus Flytraps, eating anything that approaches them. The head of a Piranha Plant is most commonly either red or green with multiple other colors. Originally, Piranha Plants were found exclusively in pipes, either darting-out and biting anything near or remaining still and spitting fireballs. Currently, Piranha Plants can be found both in and out of pipes and their fire-breathing ability is now rarely used.
In Super Smash Flash 2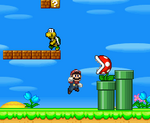 In Super Smash Flash 2, they may be one of the many enemies in the Adventure mode stage, Mushroom Kingdom. They appear in the beginning of the level in a pipe trying to eat the player.