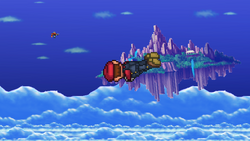 A midair jump, also known as a double jump, is a movement option that gives the user a quick boost of vertical speed. While jumping, a character can move left or right, carrying any horizontal momentum they had before the jump. This move is an incredibly important tool for aerial movement, and must be used wisely to ensure that one does not become vulnerable to juggling or edgeguarding.
Number of midair jumps
Ad blocker interference detected!
Wikia is a free-to-use site that makes money from advertising. We have a modified experience for viewers using ad blockers

Wikia is not accessible if you've made further modifications. Remove the custom ad blocker rule(s) and the page will load as expected.