Ad blocker interference detected!
Wikia is a free-to-use site that makes money from advertising. We have a modified experience for viewers using ad blockers

Wikia is not accessible if you've made further modifications. Remove the custom ad blocker rule(s) and the page will load as expected.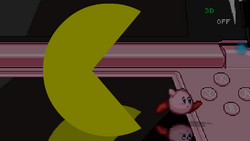 A Final Smash is a special move that debuted in Super Smash Bros. Brawl and reappears in Super Smash Flash 2. Final Smashes are incredibly powerful in comparison to all other attacks and, if properly executed, usually have the capacity to KO at least one opponent. Final Smashes performed correctly will give you a great advantage, and may help you catch up to others in the game, or vice versa. To perform a Final Smash, a player must destroy a Smash Ball and then press the special move button. Multiple Smash Balls can't appear in a match at the same time but can reappear after the Final Smash is used. However, the player who possesses the Smash Ball must be careful prior to using their Final Smash to not allow it to be knocked out of them by any of the opponents.
Types of Final Smashes
While Final Smashes tend to be unique among characters, there are certain categories they can be sorted into.
Directional - These Final Smashes launch an attack in a single direction, which may or may not be controlled. This kind of Final Smash has a blind spot, usually behind the attacker, where targets can hide.
Final Form - These Final Smashes involve the character transforming, who can then rampage around and cause damage. The transformations buff up the character's existing moveset and sometimes give them different attacks.
Focused - These Final Smashes affect nearby opponents in any direction. Targets can avoid the move by getting out of range, so they're most effective in smaller stages.
Trapping - These Final Smashes attack a certain area, grab anyone inside said area (or just a single character), and lay down an inescapable beating. They generally have a small initial range, and will fail if there are no targets caught.
Semi-Final Form - These Final Smashes involve a character transforming, but you can't control it to the extent that you would the character themself as they usually have a moveset consisting of 1-3 attacks.
Transformation - These Final Smashes involve a character transforming, similar to the Final Form and Semi-Final form, but can not be controlled as one would control a regular character; rather, their form of control is completely different.
Stage-Wide - These Final Smashes affect the whole stage, leaving no hiding spots. However, they may be less effective on larger stages.
List of Final Smashes
This is the complete list of all the Final Smashes in Super Smash Flash 2. Few of them are unknown due to new sprites or new ideas, all of the information below are subject to change:
Gallery
See also