Crash Bomb


Mega Man firing the Crash Bomb.
Universe
Mega Man
User
Mega Man
Effect
Mega Man fires a grappling bomb that explodes on the walls and opponents it sticks to.
The Crash Bomb (クラッシュボム), also referred to as the Crash Bomber, is Mega Man's side special move in Super Smash Flash 2.
Overview
When performed, Mega Man shoots a small, red grappling bomb that sticks to walls and opponents. The bomb launches in a straight line forwards and at a quick speed, with enough range to travel the entire length of Final Destination. The bomb unleashes a small explosion after a few seconds pass or when the player inputs the command again, dealing 10% of damage to the opponent hit and with decent knockback.
Origin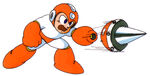 The Crash Bomb is a weapon acquired by defeating Crash Man in Mega Man 2. In this game, the player could shoot one bomb at a time that would latch onto walls and explode after a few seconds. The bombs are also the only weapon that can destroy special destructible walls found in most of the stages. It was also the Wily Machine 2's weakness and most effective weapon to use against it. In SSF2 it works exactly like its Mega Man 2 counterpart, except the player can manually explode it instead of waiting.
Gallery
Screenshots
Early design
Trivia
Prior to the Beta of the SSF2 Demo, the move was one of five special weapons that could be changed into Mega Man's standard special move, Weapon Use, with the Weapon Change. However, Weapon Change has since been replaced with Water Wave, thus changing this move to his side special move.
Ad blocker interference detected!
Wikia is a free-to-use site that makes money from advertising. We have a modified experience for viewers using ad blockers

Wikia is not accessible if you've made further modifications. Remove the custom ad blocker rule(s) and the page will load as expected.