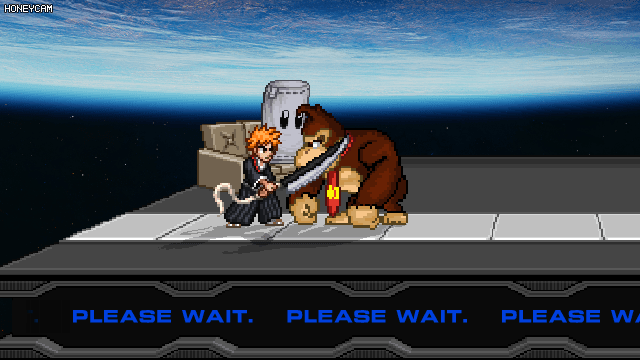 A chain grab (sometimes called chain throw) refers to a series of grabs and throws that the victim cannot break away from, this is the true definition of a chain grab because after the throw the opponent is in range of being grabbed again and again. A chain throw is when a player throws the opponent a specific direction (most commonly down or up), chases the enemy's directional influence, and grabs the opponent while he/she is still in mid-air and before he/she can tech. Generally, heavier or larger characters tend to be more vulnerable to chain grabs than lighter or smaller characters. Going along with this, Samus is more susceptible to horizontal chain grabs then to vertical ones due to her heavy weight. While Fox is more susceptible to vertical chain grabs then to horizontal ones due to his high accelerated falling speed.
Chain grabs in SSF2 are much easier to escape from than in the main games. It appears the physics of SSF2 along with not using 3D models helps in this. For example, Pikachu can down throw chain grab Fox to death percentage just like in Super Smash Bros. Brawl. However, Fox is able to D.I. after the throw in SSF2 while he cannot escape from the chain grab, unless the player messes up, in Brawl.
Characters who can chain grab
Trivia
Marth was unable to chain grab Falcon with his up throw in Melee due to his weight.
External links

Ad blocker interference detected!
Wikia is a free-to-use site that makes money from advertising. We have a modified experience for viewers using ad blockers

Wikia is not accessible if you've made further modifications. Remove the custom ad blocker rule(s) and the page will load as expected.