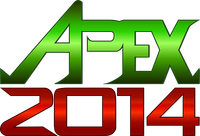 APEX 2014 was a tournament event held from January 17–19, 2014 at Rutgers University in New Brunswick, New Jersey, United States. Founded by Jonathan Alex Strife Lugo, it was the fifth iteration of the APEX tournament series which has been known to attract worldwide attention from notable Super Smash Bros. players, among other games. As with APEX 2013, McLeodGaming attended to event with an exclusive booth.
McLeodGaming at APEX 2014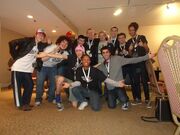 On July 26, 2013 — during the showcase of the first screenshots from v0.9b of the Super Smash Flash 2 Demo — it was commented that said version was expected to be presented at APEX 2014, following the success of v0.9a unveilment at APEX 2013.[1] It was not until November 8 of the same year, that Cleod9 himself officially confirmed v0.9b would be, indeed, unveiled at next year's APEX 2014 where direct live-streams of v0.9b gameplay will be transmitted for people who could not assist to the event, as well, as holding raffles and prize-givings.[2]
During the course of the event, characters Marth and Chibi-Robo were revealed but at very incomplete renditions.
See also
References
↑ http://forums.mcleodgaming.com/viewtopic.php?f=3&t=37333&sid=39a709d0b786b96e0e2cc008a95c3cb2 Accessed Novemeber 10, 2013
↑ http://forums.mcleodgaming.com/viewtopic.php?f=3&t=37974 Accessed Novemeber 10, 2013
External link
Ad blocker interference detected!
Wikia is a free-to-use site that makes money from advertising. We have a modified experience for viewers using ad blockers

Wikia is not accessible if you've made further modifications. Remove the custom ad blocker rule(s) and the page will load as expected.